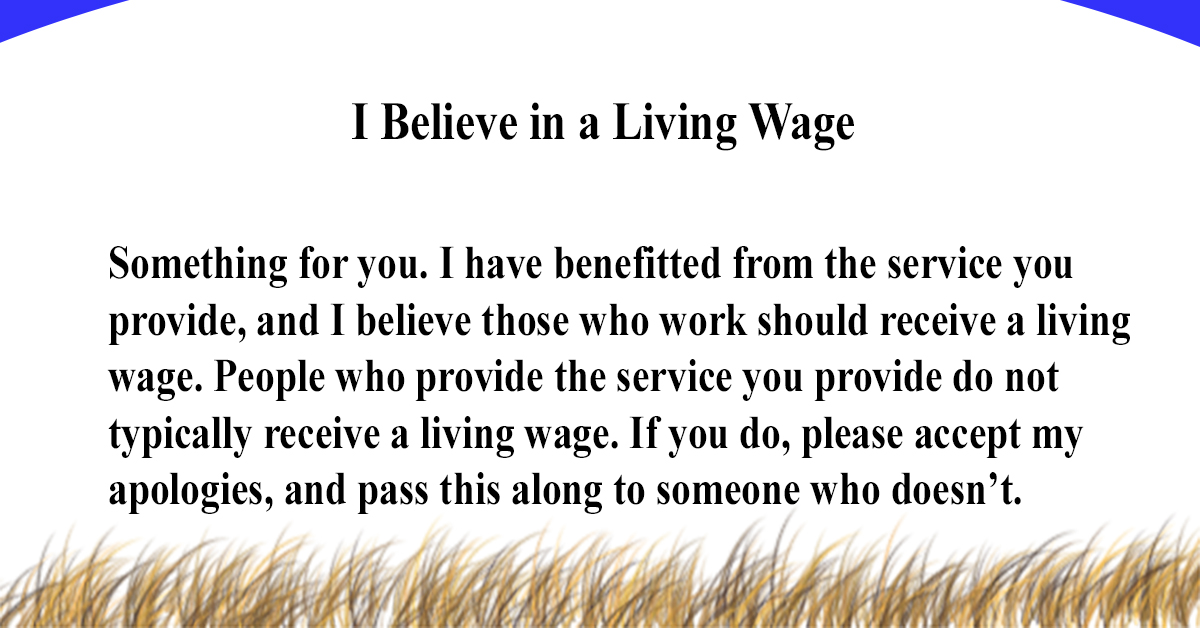 We often hear raising the minimum wage will hurt those it is intended to help. Here is a simple way to increase wages for many of those who are not paid a living wage. Print this out, and put a dollar with it. Then give one to each service related employee you do business with throughout the day. Visit a drive through? Give one of these to the person who takes your order. Buy groceries? Give one to the cashier. Stay in hotel? Give one to the cleaning person and the reservation agent. Many corporations may never be willing to pay a living wage, but that should not stop the rest of us from caring for those who are struggling to make ends meet. We are called to judge righteously.

Pro 31:9 Open thy mouth, judge righteously, and plead the cause of the poor and needy.

If we cannot afford to pay a living wage to the people who are providing a service for us, we cannot afford that service. Many of our brothers and sisters are struggling. Politicians and corporations will not fix this for us. We must fix it. Forget about "trickle-down economics." Why give money to people who live in mansions and drive expensive cars and then hope they will trickle some of that wealth down to their employees? Cut out the middleman. Put that money in the hands of the people who cannot afford rent and who have a hard time coming up with bus fare despite the fact they are working one or more jobs. Put that money in the hands of the people who work two or three jobs to make ends meet.

The divide between the haves and the have-nots is widening. We see more and more people in their twenty's, thirty's, sixty's, and even seventy's working jobs which used to be held by teenagers. This isn't because these people are bored. This is because they are struggling. These great-grandmothers should be spending time with their grandchildren and imparting wisdom to their children. Instead, they are flipping burgers at fast food joints. These twenty somethings shouldn't have to work two or three jobs to make ends meet. They should be working one job and starting their families. These thirty somethings should be teaching their children right from wrong and instilling the values that will guide those children through life. Instead, they are working three jobs while leaving the raising of their children to underpaid childcare workers who may have a vastly different set of values.

One of Satan's greatest successes is his ability to keep people so busy getting by or getting ahead, they don't have time for God. We need to work together to counteract this.

A person who spends $80 on a dinner out has a hard time relating to a person who has a monthly food budget of $40. A person who has two cars has a hard time relating to a person who cannot afford one. A person who takes a vacation every year has a hard time relating to a person who has never been able to afford a vacation. We all need to make an effort to relate to those who have less. No matter how little we may think we have, someone has less and deserves more. Our struggle is someone else's dream. If we have been blessed financially, we have an obligation to share that blessing with others.

Luk 3:11 He answereth and saith unto them, He that hath two coats, let him impart to him that hath none; and he that hath meat, let him do likewise.

If we want a better world, we must lift up those around us as we are lifted up. Then we will all soar together.
Be the solution.